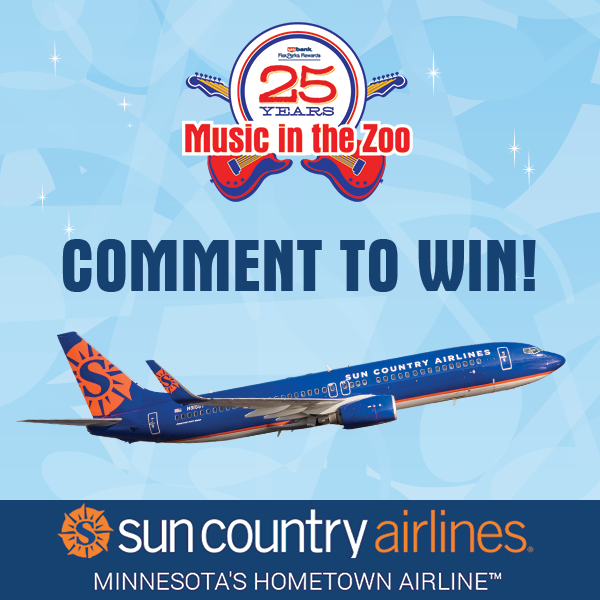 SUN COUNTRY AIRLINES CONTEST
Do you miss summer? We've got you covered! Enter to win a $500 domestic travel certificate from Sun Country Airlines so you can reach a sunny destination before the next Music in the Zoo season!
Head over to our Music in the Zoo Facebook page and enter to win! Just tell us your favorite warm-weather destination by commenting on our contest post and we'll select a winner at random Monday, October 16th, 2017.
Winner will receive (1) complimentary $500 Domestic Sun Country Airlines Travel Voucher  
Official Rules:
Sweepstakes consist of prizes being offered to participants selected on a random basis whereas a contest involves entrant participation and may require participants to use specific skills to solve or complete a specified objective in order to qualify for an award or submit entry material which will be judged using specific criteria. For all purposes hereinafter the term "Contest" shall collectively refer to both sweepstakes and contests. NO PURCHASE OR PAYMENT OF ANY KIND IS NECESSARY TO ENTER OR WIN. All contestants must be at least 18 years old to be eligible to participate in contests that include air travel as prizes. Contests are open to legal residents of the fifty (50) United States and the District of Columbia. If you are not a permanent resident of one of the 50 states or you are not the required age at of time of entry, you are not eligible to enter the Contest or to win a Prize. VOID IN ANY LOCATION WHERE PROHIBITED OR RESTRICTED BY LAW. Do not enter any contest if you are not located in the United States at the time of entry. Odds of winning depend upon the number of eligible entries received during the Contest period. Contest entries accepted October 12 – Oct 16 at 12:00 pm, 2017. Valid entry considered commenting on contest post via Facebook and Instagram during the contest time period.